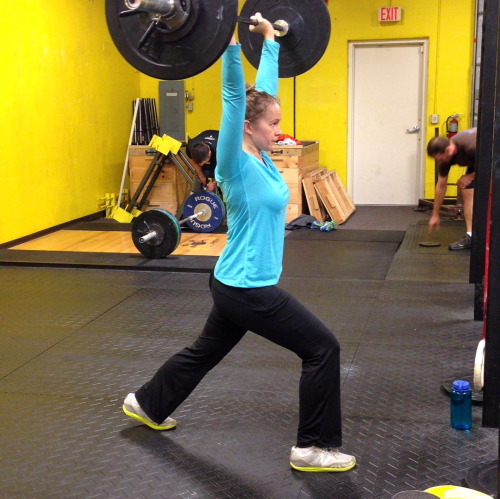 Annie nailing a jerk from last Friday. Looking solid!
101
A1. Ring pushups (with turnout), 5x8-10 
A2. DB chainsaw row (DEMO), 5x8 each 
Notes: 3 min clock. Heavier than last week. Add weight to the pushups if possible.
201
A1. ME UB strict HSPU + ME UB kipping HSPU, 5 sets 
A2. Elbow on knee external rotations (DEMO), 5x10 each 
Notes: 3 min clock. Ideally, the ME UB strict HSPU should fall in the 5-8 range. If you can do more than that, do them to a deficit.
+
101 & 201
5 sets @ 100% effort:
20 sec TnG power clean 
20 sec heavy Russian KB swings 
20 sec AD 
rest 3 min b/w sets
Notes: 101 - heavy but fast load on PC, AHAP on RKBS; 201 - 135/95 on PC, at least 32/24kg on RKBS. Obviously, split into groups of at most 4. Even though you're working in groups, this isn't a team workout. You're just doing your workout in a group of people to share equipment, specifically the AD. One person will work for the entire minute and then rest while their partners go in the next 3 minutes. Note the "100% effort" part of this. Get after it!
Post loads and times to comments.