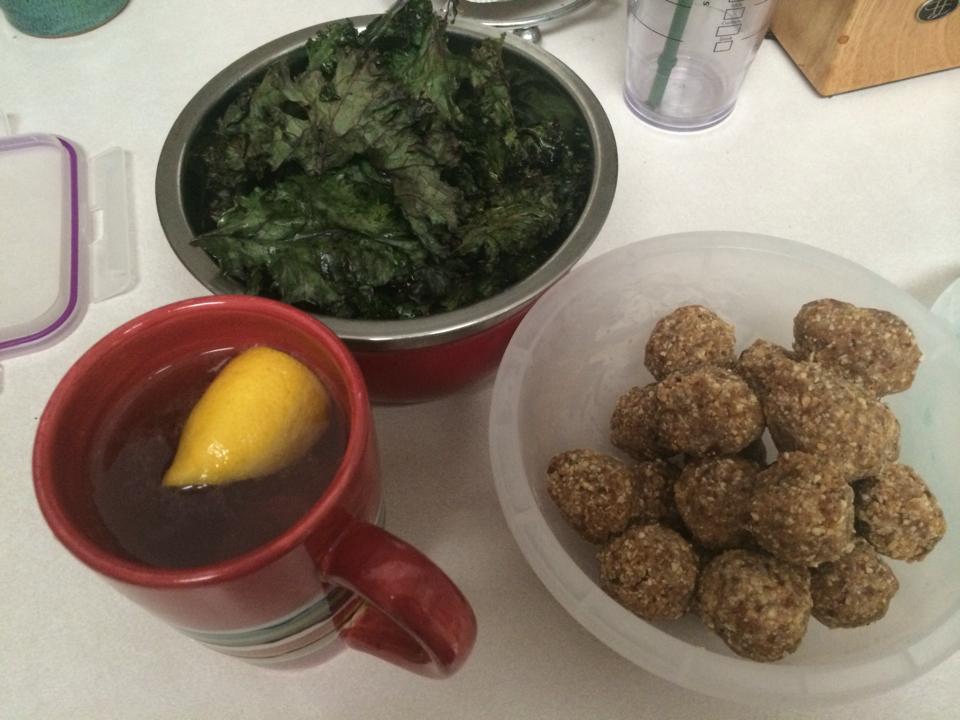 The Lurong Living Paleo Challenge is in it's third week and I just wanted to share some of what the folks that are participating have been eating. First, Mary Hanks' kale chips with date balls and hot lemon water, Brooke Ward's paleo chicken tenders on cauliflower rice, Susannah Rockman-Lee's rice-less sushi from Red Sushi, and Paul's Peruvian-style chicken. I'd say that's not bad eating for a "clean" eating challenge!
Great job all and keep it up!
---
Fitness

12min AMRAP:
4 Curtis P's (DEMO), 95/65
Run 250m

Rest 5min

12min AMRAP:
30 DU
20 KB C&J, 24/16
10 Abmat sit-ups
5 CTB pull ups

Rest 5min

100 swings for time, 24/16
Notes: For A, a Curtis P is a barbell complex of: 1 Power Clean + 1 Right leg lunge + 1 Left leg lunge + 1 S-OH. The bar remains racked for the lunges. On B, 10 each hand for the C&J's. Keep your elbow glued to your ribs during the cleans! Don't pull the elbow up like you would when cleaning a barbell. If you don't have CTB pull ups yet, then scale to regular pull ups/ring rows, for the same number of reps. Kipping is allowed.
Performance

A. Segmented snatch deadlift (2 sec pause @ 1″ off ground, below knee, mid-thigh), 5x2, rest 2mins b/w sets, small build per set
B. 1 snatch pull (DEMO) + 1 hang snatch high pull (DEMO, not the flat-footed part) + 1 hang power snatch – build this complex to heavy in 10mins
C. EMOM x5: 5 TnG power clean @ 65% of 1RM PC
+
3 sets @ 95% effort:
250m row
10 burpee box jump overs, 24"/20″
10 alt'g DB snatch, 75/50lb
rest walk 4mins
Notes:
- work on breathing and keeping each rep consistent on TnG work
- goal is same pace each set; push these and try to hold on
- shouldn't be excess pauses on DB snatch; decrease load if necessary
- DON'T DROP THE DBs!
Post results to Facebook.