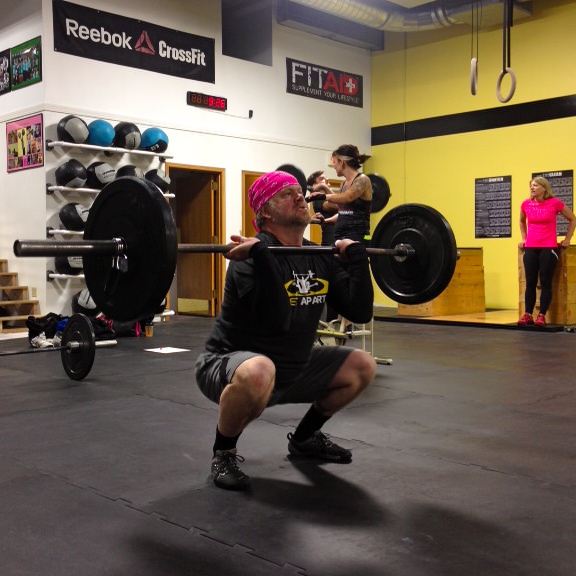 After it's initial appearance at B4B, the pink bandana returns!
---
Fitness

A. Clean and Jerk: Build to AHAP in 10min
B. C&J: 1 rep every 30 sec for 10min, 70-75% of A
+
3 Rounds @ME:
1 min AD
1 min ME burpees
Rest 2 min
Rest 5 min
5 RFT:
10 HRPU
10 Jump squats
10 Burpees
Notes: Hips below the knees is still expected on the jump squats; don't short the range! Record time for 5 rounds on board.
Performance

A. Power clean TnG cluster, 2.2.2; rest 10sec/rest 3mins x 3
B. EMOM x8: 3 split jerk from rack (no TnG) @65% 1RM SJ
C. For time: 5 sets of 5 UB TnG PC and jerk, 155/105#, "Grace-style"
+
Row 500m @2k PR pace
rest 3mins
x8 (all rows same pace)
Notes:
– build per set on PC, should be heavier than last week 141125
– technique work on SJ
– the sets of 5 PC&J must be UB TnG
– all rows should be the same pace; if too fast to sustain then back it off a bit
- record last PC cluster and total time for 25 PC&J on board
- J-Earley: 245, 2:13