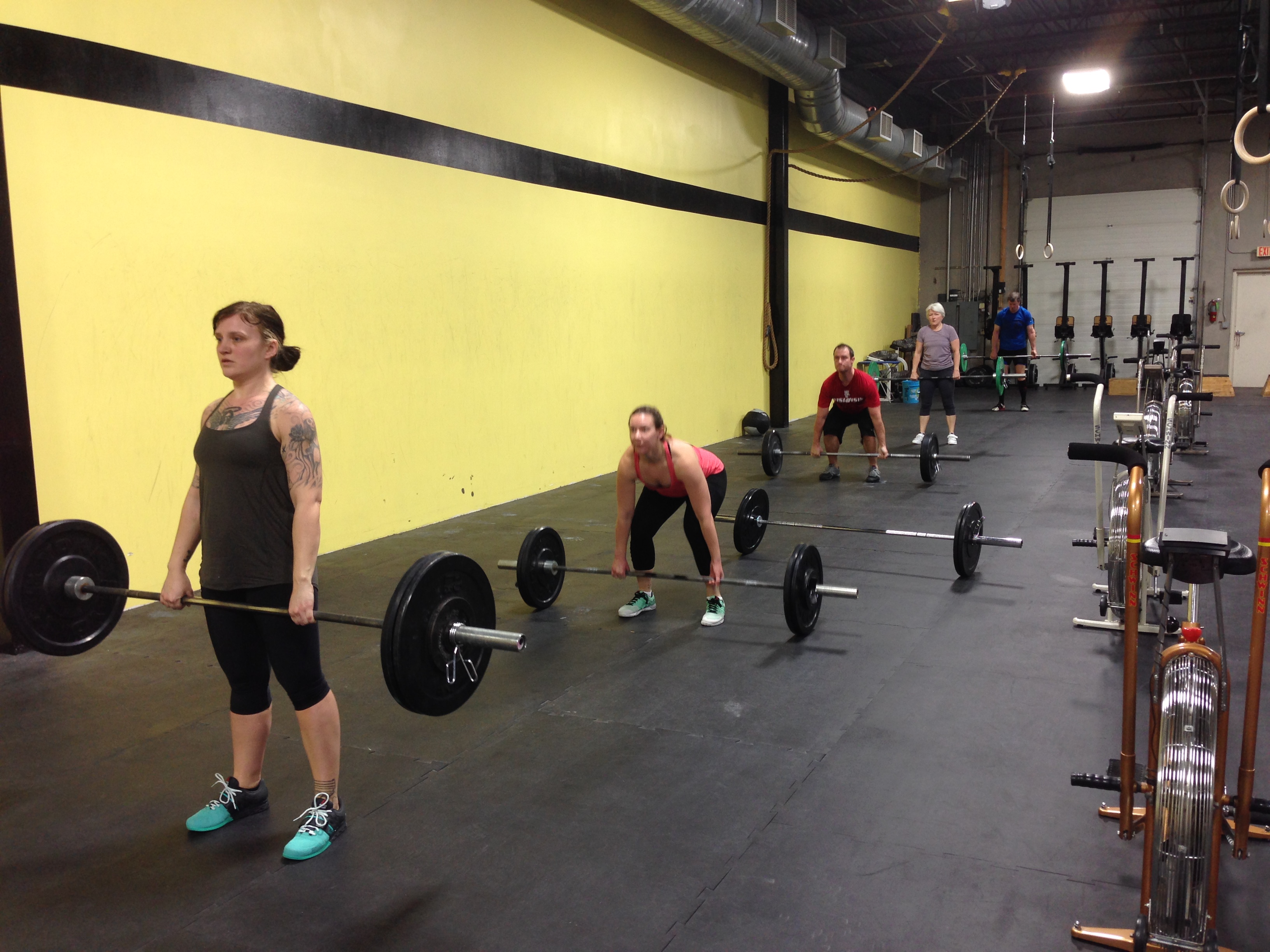 Liz, Rachel, Eric, Joette, and Dave (way in the back), motoring through Wednesday's deadlifts. Quote of the day, from Mark Pierce (not pictured) while massaging his thighs in between sets, "I think I understand why they're called 'lactic' sets." Exactly.
---
What's In A Name?
by Paul Saevre
Over the past month, I have been asked about our gym name, CrossFit Sanctify. I thought it might be appropriate to share a little of our story with you in light of the soon to be released promotional video Alyson has been putting a great deal of time, energy and skill into. Back in the fall of 2010, Josh and I were sitting at the kitchen table in my house discussing where and when we would open a CrossFit gym. We needed to register the business and get a Federal ID number and to do so we needed a name. While Paul and Josh's Gym or Josh and Paul's Gym would have worked to identify who we were and what we were doing we just didn't think it reflected what we were about.
We agonized over what the name would be for weeks because we wanted the name to stand for something beyond just being a strength and conditioning facility. I don't know who actually said the word "sanctify" first but as we talked about our philosophy it became apparent we wanted to be a different kind of gym and we wanted to be "set apart" from other fitness facilities. As some of you may know, sanctify does usually have a religious connotation to it. Sanctify means to make holy, set apart and the most common use of the term would be God has made us holy and set apart because of Jesus' death on the cross. The preaching we do at the gym is about physical movement but our intention has also been to conduct ourselves as coaches and owners in such a way that we could be identified as Christ followers. I still hear my mom's voice reminding me, "Remember who you belong to" when I would leave the house as a teenager to go out with friends. I wonder if she knew what kind of impact those few little words would have on me to this day.
Once we decided to use the name Sanctify, we knew it meant that we were setting a standard for how we would try to conduct business. In our mission statement we put the emphasis on the fact that we exist to serve our members first and foremost and the vehicle we use is professionally planned and implemented strength and conditioning programs. We have made mistakes along the way and thankfully we have had gracious members who have forgiven our short comings and have become like family to us. It has been our aim since that fall day in 2010 to constantly improve, learn and be better coaches and owners. We want to offer a better service today than we did yesterday and put the needs of others ahead of our own because that is what truly sets people and organizations apart in the world today.
Josh and I both feel honored each day we get to come to Sanctify and coach great people like you and share what we are so passionate about. I am so thankful that this never feels like a job. It does feel like a privilege and a blessing.